Bonjour,
J'ai rencontré un problème en voulant me connecter à un serveur ou en créant un monde. En effet j'ai le code d'erreur suivant qui sort :
The game crashed whilst keypressed event handler
Error: java.lang.IllegalStateException: failed to create a child event loop
J'ai essayé de chercher des solutions sur internet et sur d'autres forums et d'autres sites, mais aucun ne fonctionne.
J'ai supprimé le cache du jeu avec %appdata%, j'ai supprimé le jeu et réinstallé mais aussi cela ne fonctionne pas.
Auriez vous des solutions ?
Voici le rapport du crash :
Code:
---- Minecraft Crash Report ----
// Don't be sad, have a hug! <3

Time: 09.04.19 16:33
Description: keyPressed event handler

java.lang.IllegalStateException: failed to create a child event loop
    at io.netty.util.concurrent.MultithreadEventExecutorGroup.<init>(MultithreadEventExecutorGroup.java:88)
    at io.netty.util.concurrent.MultithreadEventExecutorGroup.<init>(MultithreadEventExecutorGroup.java:58)
    at io.netty.util.concurrent.MultithreadEventExecutorGroup.<init>(MultithreadEventExecutorGroup.java:47)
    at io.netty.channel.MultithreadEventLoopGroup.<init>(MultithreadEventLoopGroup.java:59)
    at io.netty.channel.nio.NioEventLoopGroup.<init>(NioEventLoopGroup.java:77)
    at io.netty.channel.nio.NioEventLoopGroup.<init>(NioEventLoopGroup.java:72)
    at io.netty.channel.nio.NioEventLoopGroup.<init>(NioEventLoopGroup.java:59)
    at ub.f(SourceFile:55)
    at ub$$Lambda$1494/989196506.get(Unknown Source)
    at xn.a(SourceFile:16)
    at ub.a(SourceFile:136)
    at cft.a(SourceFile:1490)
    at cmy.j(SourceFile:305)
    at cmy.keyPressed(SourceFile:390)
    at cfq.a(SourceFile:389)
    at cfq$$Lambda$1022/1386491407.run(Unknown Source)
    at ckd.a(SourceFile:430)
    at cfq.a(SourceFile:387)
    at cfq$$Lambda$841/1032671934.invoke(Unknown Source)
    at org.lwjgl.glfw.GLFWKeyCallbackI.callback(GLFWKeyCallbackI.java:37)
    at org.lwjgl.system.JNI.invokeV(Native Method)
    at org.lwjgl.glfw.GLFW.glfwPollEvents(GLFW.java:3029)
    at cgd.a(SourceFile:309)
    at cft.c(SourceFile:875)
    at cft.a(SourceFile:395)
    at net.minecraft.client.main.Main.main(SourceFile:144)
Caused by: io.netty.channel.ChannelException: failed to open a new selector
    at io.netty.channel.nio.NioEventLoop.openSelector(NioEventLoop.java:177)
    at io.netty.channel.nio.NioEventLoop.<init>(NioEventLoop.java:151)
    at io.netty.channel.nio.NioEventLoopGroup.newChild(NioEventLoopGroup.java:127)
    at io.netty.channel.nio.NioEventLoopGroup.newChild(NioEventLoopGroup.java:36)
    at io.netty.util.concurrent.MultithreadEventExecutorGroup.<init>(MultithreadEventExecutorGroup.java:84)
    ... 25 more
Caused by: java.io.IOException: Unable to establish loopback connection
    at sun.nio.ch.PipeImpl$Initializer.run(PipeImpl.java:101)
    at sun.nio.ch.PipeImpl$Initializer.run(PipeImpl.java:68)
    at java.security.AccessController.doPrivileged(Native Method)
    at sun.nio.ch.PipeImpl.<init>(PipeImpl.java:170)
    at sun.nio.ch.SelectorProviderImpl.openPipe(SelectorProviderImpl.java:50)
    at java.nio.channels.Pipe.open(Pipe.java:155)
    at sun.nio.ch.WindowsSelectorImpl.<init>(WindowsSelectorImpl.java:127)
    at sun.nio.ch.WindowsSelectorProvider.openSelector(WindowsSelectorProvider.java:44)
    at io.netty.channel.nio.NioEventLoop.openSelector(NioEventLoop.java:175)
    ... 29 more
Caused by: java.net.BindException: Cannot assign requested address: connect
    at sun.nio.ch.Net.connect0(Native Method)
    at sun.nio.ch.Net.connect(Net.java:458)
    at sun.nio.ch.Net.connect(Net.java:450)
    at sun.nio.ch.SocketChannelImpl.connect(SocketChannelImpl.java:648)
    at java.nio.channels.SocketChannel.open(SocketChannel.java:189)
    at sun.nio.ch.PipeImpl$Initializer$LoopbackConnector.run(PipeImpl.java:130)
    at sun.nio.ch.PipeImpl$Initializer.run(PipeImpl.java:83)
    ... 37 more


A detailed walkthrough of the error, its code path and all known details is as follows:
---------------------------------------------------------------------------------------

-- Head --
Thread: Client thread
Stacktrace:
    at io.netty.util.concurrent.MultithreadEventExecutorGroup.<init>(MultithreadEventExecutorGroup.java:88)
    at io.netty.util.concurrent.MultithreadEventExecutorGroup.<init>(MultithreadEventExecutorGroup.java:58)
    at io.netty.util.concurrent.MultithreadEventExecutorGroup.<init>(MultithreadEventExecutorGroup.java:47)
    at io.netty.channel.MultithreadEventLoopGroup.<init>(MultithreadEventLoopGroup.java:59)
    at io.netty.channel.nio.NioEventLoopGroup.<init>(NioEventLoopGroup.java:77)
    at io.netty.channel.nio.NioEventLoopGroup.<init>(NioEventLoopGroup.java:72)
    at io.netty.channel.nio.NioEventLoopGroup.<init>(NioEventLoopGroup.java:59)
    at ub.f(SourceFile:55)
    at ub$$Lambda$1494/989196506.get(Unknown Source)
    at xn.a(SourceFile:16)
    at ub.a(SourceFile:136)
    at cft.a(SourceFile:1490)
    at cmy.j(SourceFile:305)
    at cmy.keyPressed(SourceFile:390)
    at cfq.a(SourceFile:389)
    at cfq$$Lambda$1022/1386491407.run(Unknown Source)

-- Affected screen --
Details:
    Screen name: cmy
Stacktrace:
    at ckd.a(SourceFile:430)
    at cfq.a(SourceFile:387)
    at cfq$$Lambda$841/1032671934.invoke(Unknown Source)
    at org.lwjgl.glfw.GLFWKeyCallbackI.callback(GLFWKeyCallbackI.java:37)
    at org.lwjgl.system.JNI.invokeV(Native Method)
    at org.lwjgl.glfw.GLFW.glfwPollEvents(GLFW.java:3029)
    at cgd.a(SourceFile:309)
    at cft.c(SourceFile:875)
    at cft.a(SourceFile:395)
    at net.minecraft.client.main.Main.main(SourceFile:144)

-- System Details --
Details:
    Minecraft Version: 1.13.2
    Operating System: Windows 10 (amd64) version 10.0
    Java Version: 1.8.0_51, Oracle Corporation
    Java VM Version: Java HotSpot(TM) 64-Bit Server VM (mixed mode), Oracle Corporation
    Memory: 261680656 bytes (249 MB) / 603979776 bytes (576 MB) up to 2147483648 bytes (2048 MB)
    JVM Flags: 9 total; -XX:HeapDumpPath=MojangTricksIntelDriversForPerformance_javaw.exe_minecraft.exe.heapdump -Xss1M -Xmx2G -XX:+UnlockExperimentalVMOptions -XX:+UseG1GC -XX:G1NewSizePercent=20 -XX:G1ReservePercent=20 -XX:MaxGCPauseMillis=50 -XX:G1HeapRegionSize=32M
    Launched Version: 1.13.2
    LWJGL: 3.1.6 build 14
    OpenGL: GeForce GTX 1080/PCIe/SSE2 GL version 4.6.0 NVIDIA 419.67, NVIDIA Corporation
    GL Caps: Using GL 1.3 multitexturing.
Using GL 1.3 texture combiners.
Using framebuffer objects because OpenGL 3.0 is supported and separate blending is supported.
Shaders are available because OpenGL 2.1 is supported.
VBOs are available because OpenGL 1.5 is supported.

    Using VBOs: Yes
    Is Modded: Probably not. Jar signature remains and client brand is untouched.
    Type: Client (map_client.txt)
    Resource Packs:
    Current Language: Français (France)
    Profiler Position: N/A (disabled)
    CPU: 8x Intel(R) Core(TM) i7-6700K CPU @ 4.00GHz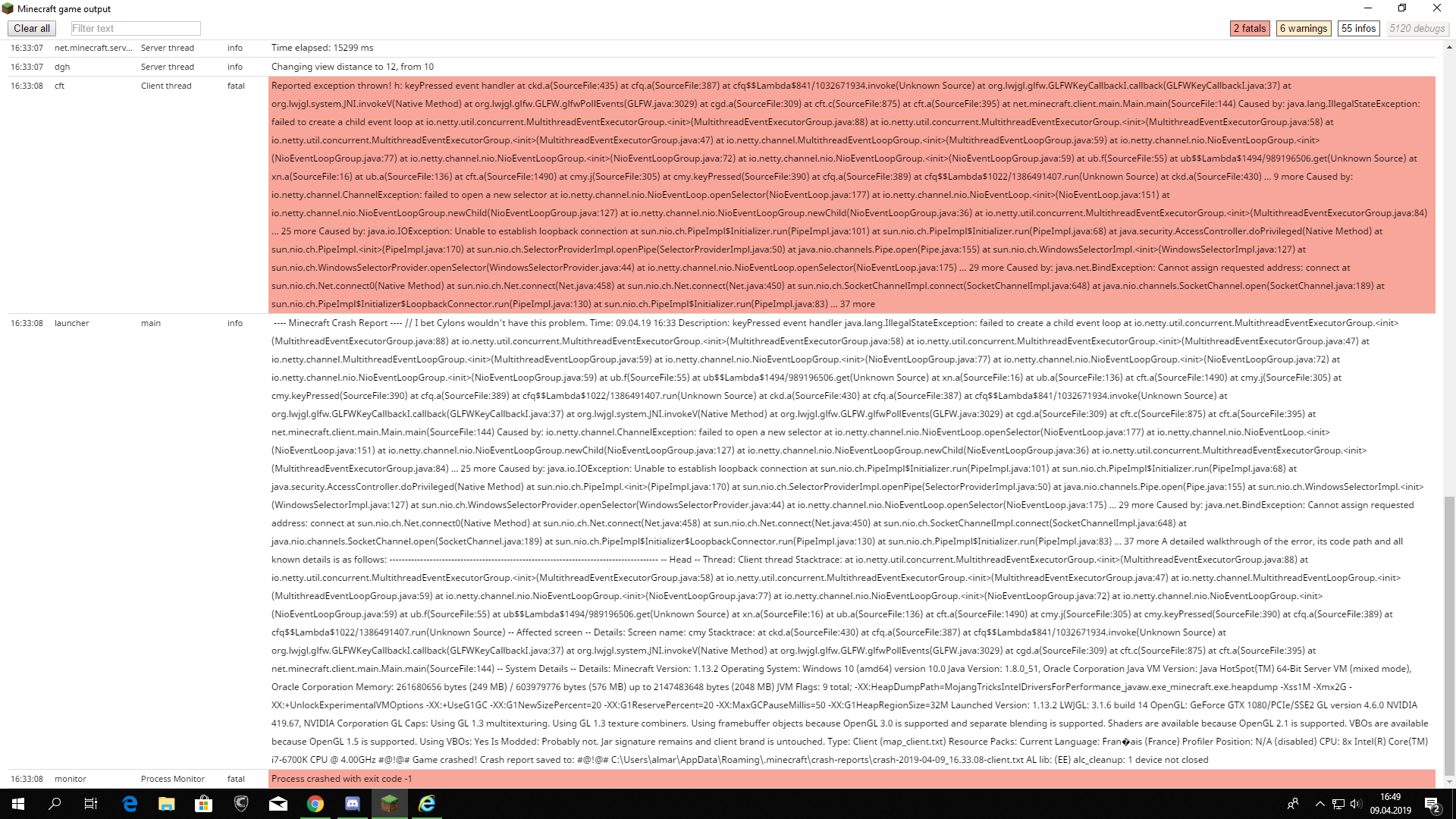 Merci d'avance pour votre attention
Dernière édition par un modérateur: